From home faucets and drain cleaning to major plumbing installations and sewer repairs, Hollister is available 24 hours a day for a wide variety of plumbing needs. Emergency plumbing services are a phone call away 309-833-1000.
Hollister Electrical, Plumbing, and Heating has been known as Macomb's most professional and most diverse shop since 1944.
We offer worry free, up-front prices for all of our plumbing services. We charge by the actual job, not the hour. The price you are quoted is the price you pay. We insist that our customers know the cost before we start the actual repair. That way you don't pay extra if the job takes longer than expected or in the event we have to leave your house to get parts. That saves you MONEY.
We not only provide plumbing services in Macomb IL, but we will also travel to meet your plumbing repair needs in Rushville IL, Carthage IL, Galesburg IL, Monmouth IL, Colchester IL, Good Hope IL, Bushnell IL, Keokuk IA, Fort Madison IA, and other surrounding areas. We hope to be your first call when you have a plumbing emergency because we provide service you can rely on.
Plumbing Solutions
& Many More!
Toilet troubles of any kind
Bathroom & Kitchen remodels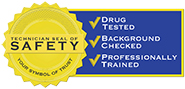 At Hollister Electrical, Plumbing, and Heating, every plumber is background checked, drug tested & professionally trained. They carry the Technician Seal of Safety so you and your family are assured a clean, professional, licensed plumber.  We even wear shoe covers to protect your valuable flooring. Hollister Electrical, Plumbing & Heating is your Preferred Plumber. To see the benefits of hiring us for all your plumbing needs visit www.preferredplumber.com!
Did you know that we sell fixtures and more in our BEAUTIFUL Bathroom Showroom?